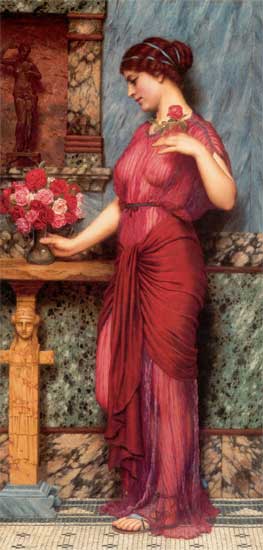 Short Writings
Most recently, my "Becoming a Priestess of Aphrodite: the Metamorphosis of Teiresias" was published in Blood and Roses, a Devotional to Aphrodite and Venus, July, 2017, Bibiliotecha Alexandrina, available from https://www.createspace.com/7377421
In May, 2017, "Serendipity in the Stacks" appeared in Library Book: Writers on Libraries, edited by Steven Gilbar, a celebration of the Santa Barbara Public Library's 100th anniversary. Available in Santa Barbara bookstores and on Amazon.
"Portia and the Three Caskets" came out in the online and print magazine, Splickety Spark: Literary Change of Heart, for Valentines' month, February, 2017. Available from the publisher, Splickety Publishing Group, or as a Kindle book on Amazon.
Greek Myths Revisited, Wicked East Press, 2011 included my story "Jocasta Speaks", the Oedipus story from the perspective of his mother, who, unknowing, later married him.
Illustration: "Offering to Venus," John Williams Godward, the cover image for Blood and Roses.