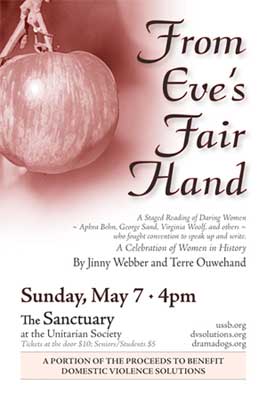 From Eve's Fair Hand, a staged reading in celebration of Women's History Month.
Co-written with Terre  Ouwehand, From Eve's Fair Hand was presented by DramaDogs of Santa Barbara. Featuring women writers in their own voices from Shakespeare's era until before World War II, this play previewed at the Santa Barbara Public Library in March, 2017, followed by a benefit performance for Domestic Violence Solutions at the Santa Barbara Unitarian Society in May. Upcoming performance: September 24, 2017, for the AAUW, Carpenteria Women's Club.
Qualities of Mercy
Presented by DramaDogs as part of the Santa Barbara Reads focus on Just Mercy by Bryan Stevenson, Spring, 2015. Webber's Qualities of Mercy brings Bryan Stevenson's study of incarceration of African American males to life theatrically with an emphasis on the grandmothers, who feature large in the book. Musical accompaniment created and performed by Josh Jenkins. Presented at the Santa Barbara and Solvang Public Libraries with the permission and encouragement from Bryan Stevenson.
Tales of Woo and Woe, A Journey of the Heart
DramaDogs' Valentine's celebration in February, 2014. Jinny Webber's Tales of Woo and Woe  premiered at Center Stage Theater, Santa Barbara, and subsequently was performed at the Santa Barbara Public Library. This compilation of quotations and short scenes from Shakespeare's plays and poems is divided into five sections: love at first sight, the folly of wooing, vows of love, torment and pain, and love endures. The play was created for six actors, three female and three male, with music created and performed by one of the actors, Josh Jenkins.
Queen Undaunted: Margaret of Anjou
This one-woman show was performed by E. Bonnie Lewis and directed by Ken Gilbert, co-artistic directors of DramaDogs in 2011 and 2012 at Center Stage Theater, Santa Barbara. Queen Undaunted, the first collaboration between Jinny Webber and DramaDogs, tells the story of Margaret, a minor French princess, who married King Henry VI of England. Sources for her story: the three parts of Shakespeare's Henry VI and Richard III, where she's the old cursing and prophesying former queen of England.